Welcome to Lockpicking Forensics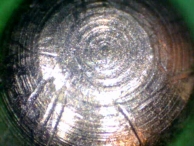 LockpickingForensics.com is dedicated to the science and study of forensic locksmithing. This site has information that will help:
Determine method of entry
Identify tool marks and techniques
Determine skill level of attacker(s)
Preserve, collect, and protect evidence
Maintain a clean forensic workspace
Organize and write investigative reports
Get started: Normal Wear | Lockpicking | Key Bumping | Forensic Investigation
Use the links on the left to familiarize yourself with the site. All images on the site can be clicked for an englarged, captioned version. For more information on locks, lockpicking, and physical security, visit LockWiki.com
Feel free to contact me if you have any questions about the site or its content.